Posted on January 12th, 2017
The Husqvarna Automower has several built-in security features, to help reduce the risk of your expensive robot being stolen.
---
Posted on November 22nd, 2016
Bursts of bad weather keep flooding the bottom of our garden, so I need to "pause" the Automower. I can't send commands to it directly (yet) so I need another solution. I've connected a Belkin WeMo WiFi power controller to the base station, so that I can use my phone to disable the mower without splashing around in the rain.
---
Posted on November 15th, 2016
The Husqvarna Automower relies on a boundary wire to tell the mower when it needs to stop and turn around. This is *really* important if you have a drop-off in your garden, like I do at the moment! If the mower can't detect the boundary, it could drive itself right over a tiny cliff, or into a pond, or something dangerous like that. So what happens if the power fails while the mower is operating, and the boundary wire stops working? Let's try it and see what happens!
---
Posted on September 9th, 2016
The second annual Society of Monash Electrical Engineers Robot Building Competition saw about 150 competitors spend a weekend building robots to solve a specific challenge. Their robots needed to follow a line down a track, detect when they approached a gate, sense the colour of the gate, transmit that colour to the course control computer using an RF transmitter module, wait for the gate to be opened, proceed to the next gate, and repeat until they reached the finish line. The finish line is a line across the track that matches the colour of the last gate, so they also had to detect multiple cross lines and ignore the ones that were the wrong colour.
The challenge turned out to be too complicated to complete within the time allowed, so it was simplified a little during the competition.
Freetronics was a major sponsor of the competition, providing prize packs for the first 4 place teams plus a bonus prize pack for a "best bling" category judged by me purely on who made the coolest looking robot.
---
Posted on July 20th, 2016
New motion detectors for the Arduino / OpenHAB home automation system finally arrived! But before I test them I need a session with my therapist.
---
Posted on July 19th, 2016
Sometimes you can't just replace halogen globes with LED globes. This time I got lucky.
---
Posted on July 14th, 2016
If I had a robot lawnmower, it would be trapped in either the front yard or the back yard. There's no way for it to travel between them.
Or is there?
---
Posted on July 12th, 2016
Time to start putting together a drone. Thanks James for dropping off some parts!
---
Posted on July 9th, 2016
Not a proper SuperHouseTV episode: just another in my irregular series of vlog posts about day to day life in the SuperHouse.
---
Posted on March 3rd, 2016
Yet another shield for the D1 Mini! I laid out a bunch of them in a burst of sudden enthusiasm, so there are even more to come after this.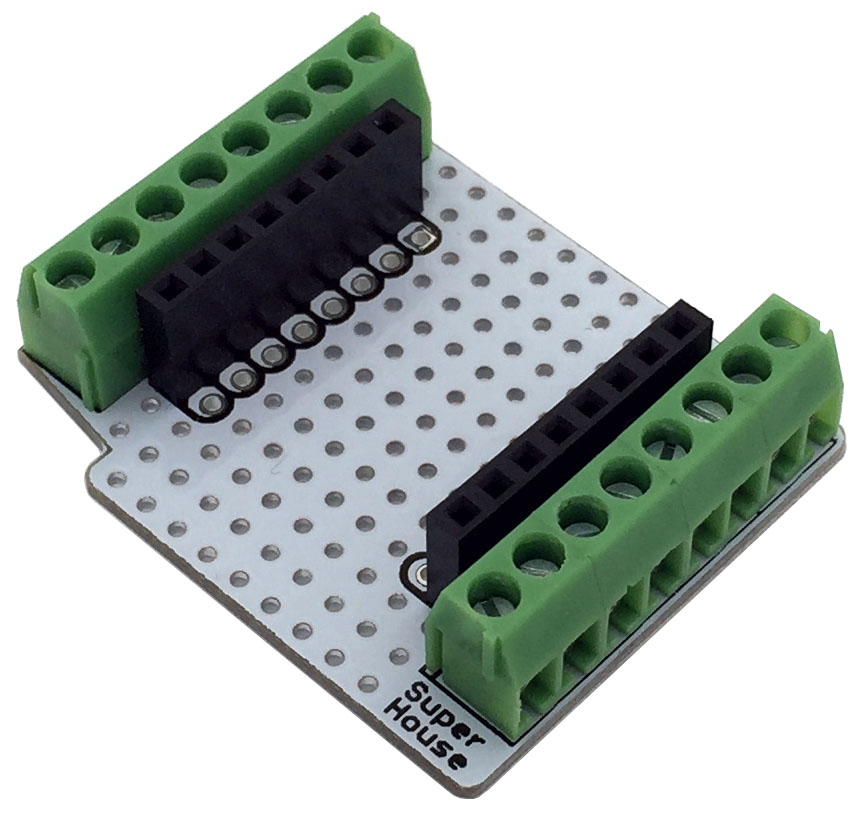 More info at its permanent page: www.superhouse.tv/d1mterminal
---